I was reading a recent article about Goals from a writer with a PHD in History from Stanford University named Amanda Dudley. The name of the article is- "5 powerful reasons why you should write down your Goals". You can Click Here if you would like to read the entire article.
In this article the author states:
"Even though there's no clear-cut formula for success, one way to ensure that you can actually achieve your goals is to write them down. In fact, psychological studies have shown that people who write down their goals are 42% more likely to achieve them than people who don't."
Here are the 5 powerful reasons you should write down your Goals:
Increases motivation
Makes it easier to remember
Helps clarify your goals
Enhances hope
Sets boundaries between wishes and goals
All the reasons listed are awesome reasons to write down your Goals, but I think the most important one is the first reason- "Increases motivation".
From the article:
"Studies have revealed that when you write down your goals, the motivation to achieve them increases substantially. Subconsciously, you would feel committed to the objectives you've written down and as such, take the necessary steps to achieve them. Writing down your goals is just like giving yourself a subconscious command. Consequently, each time you get distracted, your brain will subtly remind you of your goals and aspirations."
Motivations are a huge factor in Softball, as in life, for reaching levels in bettering yourself. If one has little to no motivation, of course little to no improvement will happen. However, increasing your motivation by writing down your Goals heightens the likelyhood of improved overall Softball play. That's what all Players and Coaches strive for.
Now that we know writing down our Goals are extremely helpful; we must also list out an Action Plan (steps to take) to aid us in achieving our Goals. A Goal with no Action Plan is like a rowboat in a lake without oars. Without oars we can only hope to reach our destination by chance across the lake. With oars we can help guide the rowboat to a desired location. Think of your Action Plan as the oars guiding you to achieving your Goal destination.
One example of a Goal you may have in Softball is to "Hit a Home Run". First thing is then to write it down. [If you have a My Softball Journey booklet you can jot that down on the "Personal Softball Goals Worksheet" page.] Then you need to think of things to work on, ways to improve, as a hitter to achieve this feat.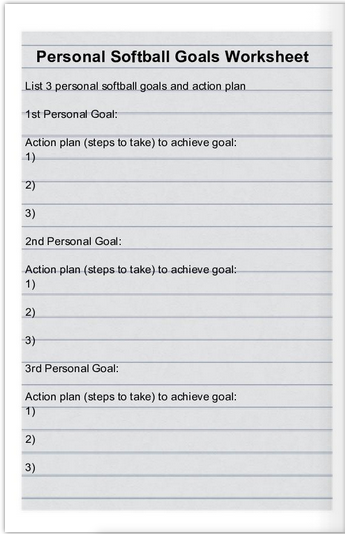 Here are several Action Plan steps you could write down:
Take extra batting practice on your own time besides regular practice.
Work on Hand and Eye drills. A great hand/eye workout is the Tennis Ball Everyday Drills in the My Softball Journey booklet.
Watch College and/or Pro hitters whenever you get the chance.
Take extra time to work on any weakness in your swing. For instance- Say you are Struggling on contacting high pitches. One thing that may help is working extra hard on high Tee hitting drills.
Learn from your batting results and lots of practice to become your own hitting Coach. Always be open for input from the Coaches but don't solely rely on your Coaches to correct your hitting flaws. The best and fastest corrections are made when you learn how to correct your own hitting flaws.
There can be many more Action Plan steps for this. Feel free to add your own. Also, don't limit the number of your Action Plan steps (3 is bare minimum). Add to your Action Plan as you go through the season.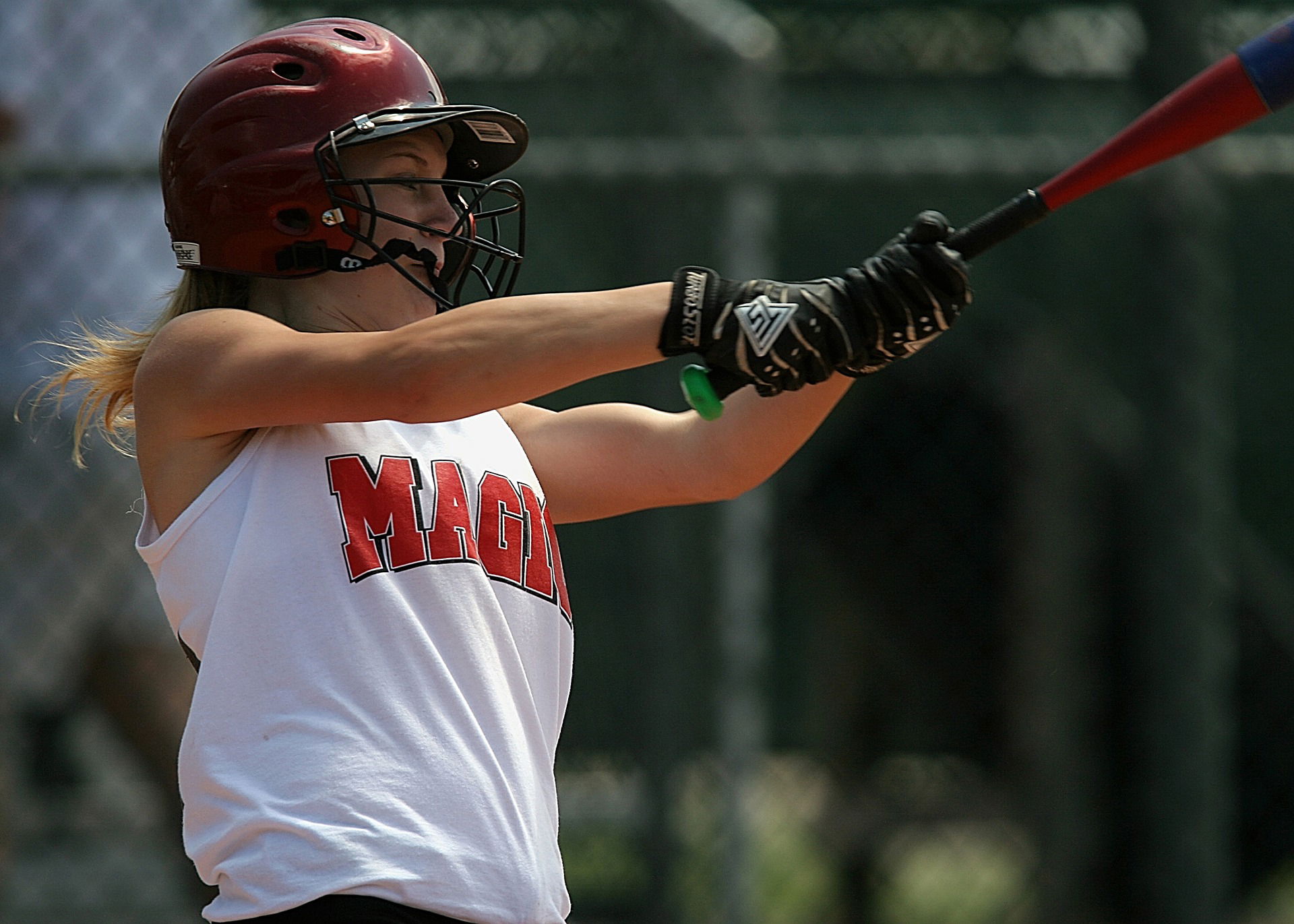 OK now let's say you have reached your Goal of hitting a Home Run. Next Step should be acknowledging this by writing down your accomplishment. Celebrate it by treating yourself to something special. Then write down another Goal. Maybe in this case that Goal could be hitting another Home Run or several Home Runs. Keep pushing yourself up levels to improve your softball game.
Writing down your Goals and Action Plan steps are another fantastic feature in the My Softball Journey booklet. Make sure to take advantage of the many great and helpful tools available in the booklet. Never too late to start and a whole lot Softball fun to write down to learn from and enjoy for years to come.
Play Ball!
-Coach Roth