Intro to Coach Roth April 7, 2020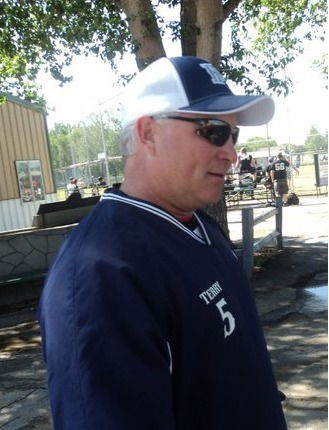 My Bio- a true Hollywood story in the making! lol, I wish. Just a little background on me and my coaching philosophies. My mission- Hope this site will give some enlightenment on all thing's softball for players, parents, fans and coaches. First a little about me.....
I grew up a wiffleball junky. Playing whenever I could. Had a "cup of coffee" with a travel amateur baseball team in the late eighties. As for Softball, I played and/or coached for over 45 years starting at the age of 15. Had one season disrupted by Cancer but nothing could ever keep me from the game I love.
As a player/coach in slowpitch softball I have been a part of 4 State Championship clubs. Won a few individual trophies, yada, yada. I have always been passionate about both slowpitch and fastpitch softball. Don't hesitate to ask me about anything related to slowpitch. However, mostly on this blog site I would like to concentrate on fastpitch. Hopefully I can be an aid and sounding board for players, parents, fans and coaches for this terrific sport.
I began my coaching career over 25 years ago. My first coaching stint was for my son's coaches pitch baseball team. Went on to coach my son's teams through Babe Ruth. Started coaching my daughter's fastpitch team during this time also. At the age of 40, I was coaching Babe Ruth, Summer Fastpitch Softball and playing slowpitch on two different teams from two different states. Along with that I pounded nails as a self-employed carpenter. Oye, wish I could have bottled some of that energy.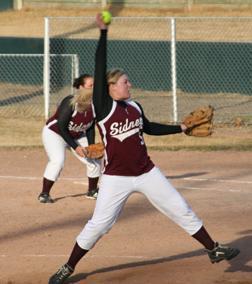 My daughter NatalieNarrowing down on my fastpitch coaching days. My daughter went on to play high school fastpitch. I was asked to volunteer as an assistant coach and gladly did that for 4 years. Along with coaching, I was also on the local summer fastpitch board that I am still on at this current date. After my daughter graduated, I was encouraged to try head coaching for the high school fastpitch team. I applied for the job and was hired as head coach.
As head coach, I tried to teach life lessons and two things that a player can control. Effort and Attitude. The effort they put in and the attitude that they exude. My assistant coaches were awesome, each added so much to our program. Our practices consisted of using hitting and fielding stations. This was a relatively new concept at that time. I tried to put as much fun in my practices as I could without losing the learning aspects needed.
By my 3rd year as head coach our team was reaching levels that had never been reached before. We won the first ever 1st place conference trophy for our high school and went on to the State Tourney. We got a bye and then played two very competitive games for tight losses. I was disappointed but was very encouraged at our progress.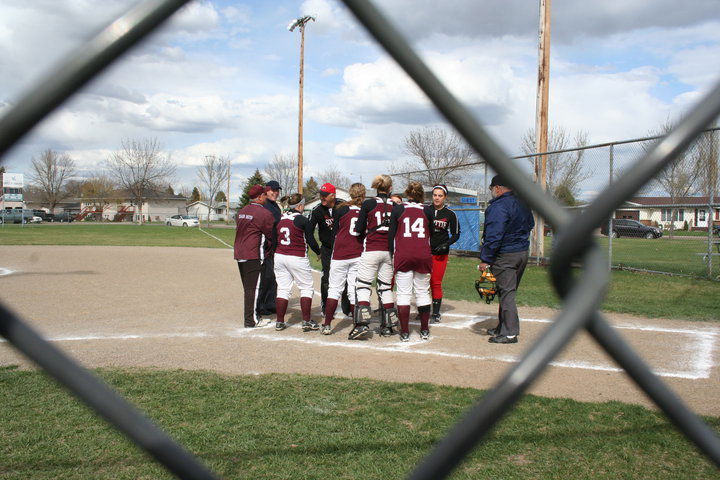 Coaches meetingGoing into my 4th year the girls were very active in the off-season doing many softball related activities. I considered our team a legit top 3 team in the State. During one of our practices at the beginning of the softball season our starting pitcher got injured. The injury was so severe that it was season ending. It was devastating for her and our team. She had worked so hard in the off season and was a shoo-in for Allstate (she later recovered and became the strike out leader at the college she played for). We made the best adjustments we could. Moved our starting shortstop (an Allstate player in her own right at shortstop) to pitcher. Shuffled around other players to fit. Circumstances dictated what we had to do.
Because of the sudden changes we struggled right out of the gate. We took things in stride and kept improving. Our sports conference back at that time didn't have a divisional tournament so each conference game was crucial. We needed a win in our last conference game but lost a closely fought battle. This eliminated our team from the State Tourney. We did have one last wrap up tourney to play and swept 4 games in impressive fashion to give us a winning record for the year, but that was bittersweet.
Not making the State Tourney was a huge disappointment for me. I had put in numerous hours of time, blood, sweat and tears. All things considered, our team had come so far but we came up short. Woulda, shoulda, coulda took me over. My regular work load also became more demanding with an uptick in construction. Knowing that it would give the high school some time to replace me, I decided to retire from being head coach soon after the season. This decision was very hard for me. Broke my heart to do this.
Retiring from head coaching, however, gave me a fresh new outlook on softball and life in general. I took a much-needed break from coaching fastpitch but kept playing slowpitch. Of course, I couldn't stay away from coaching fastpitch forever. Oh no, that's not me. I did some one on one coaching and, after a couple years, I decided I would help the high school softball program by coaching a 14u travel team. I set up a meeting with the parents and players. The response was fantastic. Couldn't have asked for a better group to do this new adventure.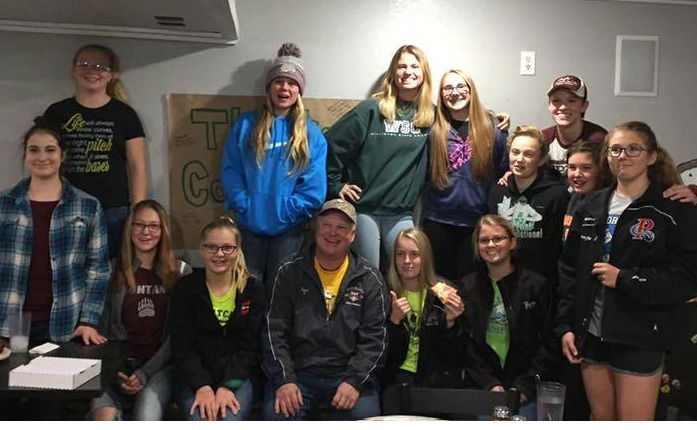 14u travel team pizza partyFor practices we used a lot of roll the ball and field, working mostly on fielding mechanics. I'm a big- defense wins championships guy. So, defense got a big part of our practices, especially early on. I like several stations (coach or helper at each) with players rotating stations quickly. Even our conditioning was station based. Our focus was on getting better each day. We worked on what was successful in my high school head coaching days. Again teaching the two things each player can control, effort and attitude. Nobody can control the weather, the umpire, other players, the way the ball bounces, and so on. They can control, however, their effort- how hard they try. And, their attitude- why having a good positive attitude can make a difference. Great advice for Softball, also great advice for life.
We had an excellent practice season with good turnout. It is amazing, however, how many activities 12, 13 and 14 year-old kids have. We managed to squeeze in a lot of practices, but I wish it could have been more. That's just the coach in me. Always wanting to prepare as much as possible. We played a tourney schedule and a few other teams. I was not overly concerned with wins/losses but with simply getting better as players, as a team and me as a coach. That was only a 1-year project, but it was one of my most fulfilling times as a coach.
A big reason for only lasting a year was my oncoming bout with Cancer. That hit me and my family pretty hard. I cannot ever thank my wife, Carrie, and all my many friends and family enough for helping me through it all. During this struggle I was asked to come back to coaching for the high school fastpitch team. It was as a volunteer assistant and I couldn't have been happier. The practice, planning, players and other coaches were great therapy for me to get through my chemo days.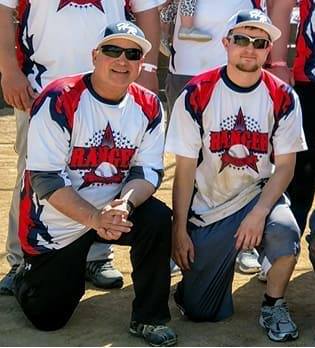 My son Darren and ITo date I am Cancer free. Winning championships are great but beating Cancer is even greater. I am still a volunteer assistant for our high school fastpitch team (shut down right now). I plan to keep on being a player/coach for a slowpitch softball team I help sponsor coming this summer. And, possibly do some coaching for a travel fastpitch team. Of course, that all depends on this virus situation we are in.
I have gathered a ton of knowledge from all my years of softball experience. That's a big reason why I decided to make this blog. My hope is to help inform players, parents and other coaches of all thing's softball. My instruction is ongoing so keep checking back. Well…enough about me. Lets get to more important issues.
This site will always be totally free to view. The next topic I will try to tackle is the challenges with the virus shutdown. Please share with me any questions or concerns by Email. Also, you can contact me with any cool tips or drills that you may like to share. I will try to get them into the Fun Softball Tips site.
Be Well and Play Ball!
Kinda new at this, but feel free to pick my brain and/or add a comment in comment section below…..